VIBRANT CAMPUS
McCanny's campus
is situated in Canada's largest city, Toronto, we value diversity and provide full support & flexibility for the success of our students.
30+ YEARS OF BESPOKE EXPERIENCE
Our Small classes sizes offer the opportunities to educate according to each student's aptitude.
OUTSTANDING ART PROGRAMS & LANGUAGE SUPPORT
You will be able to find your passion through our programs like Dancing, Visual Arts, and Robotic Clubs. We also provide international students with outstanding language support.
CERTIFIED TEACHERS
Our professional team of teachers holds prestigious PhD.'s, Masters, and Degrees from the top universities. We provide you with the best quality knowledge.

Dr. Alireza Rafiee
Principal of McCanny Secondary School
Dear Parents and Students:
It is with great pride & joy to introduce you to our prestigious McCanny secondary school, where staff and teachers are energized and deeply committed to making a positive difference in your educational future.
We highly value art programs, and language support to ensure the satisfaction of our passionate students. We accomplish this by setting high academic expectations for all our students and providing support systems to assure these expectations are met.
By addressing school culture, setting high standards for teacher performance, it is our goal that all graduates are fully university ready.
SCHOOL ACHIEVEMENTS
University acceptance rate

Dong Liang
Accepted by Western University
I think the best word that describes McCanny School is excellence, from the moment that I came to ask for information until my last day I could see it. With an amazing staff Arena provides not only really interactive and high quality classes with well prepared teachers.
Ricardo Zhao
Accepted by University of Toronto
I recommend McCanny School. The classes are small, so the teachers can focus on each student. I loved the programs, based on participation and dynamism. The school helped me integrate in Canada and enjoy my new life!
STAY TUNED
WITH US
Subscribe now and receive weekly newsletter with educational materials, new courses, interesting posts, popular books and much more!
RECENT POSTS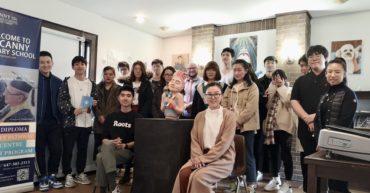 The McCanny Annual Spring Show Exhibit Description The [...]